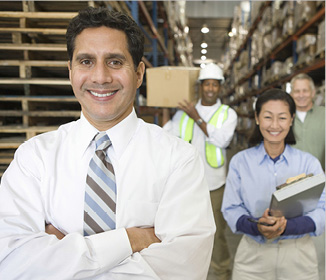 Workers' Compensation Insurance:
What Every Business Should Know
According to the U.S. Department of Labor, Bureau of Labor Statistics (BLS), a total of 2,976,400 nonfatal injuries were reported from private industry in 2012.1
You never know when an accident might occur at your workplace. That's why, as an employer, it's important to understand the ins and outs of workers' compensation insurance coverage. If an employee suffers an illness or injury on the job, workers' compensation insurance may cover the medical and rehabilitation costs associated with their care. It may help the injured employee with other expenses such as lost wages or in the case of a fatal accident or injury it may help the family with an insurance benefit.
Who's covered?
Workers' compensation coverage varies by state and by occupation. Typically, the insurance will cover any employee who sustains an illness or injury while performing their usual job functions. Some states also provide benefits for dependents of those workers who lose their lives from work-related accidents or illnesses. In some cases, failure to carry workers' compensation insurance or otherwise meet a state's regulations can leave your business responsible for paying these benefits out of pocket as well as any applicable fines and penalties.
What's covered?
While requirements and plans vary between states, workers' compensation coverage generally includes:
Medical treatment for injured employees
Occupational hazards such as disease exposure
Employer liability
Temporary disability
Permanent impairment
Total disability
Death benefits for beneficiaries

Base Rate
The base rate, unique to each state and industry classification, is the starting point. The state assesses the risk for a given industry based on actuarial guidelines. Generally, industries with lower risk of work place injuries have lower base rates than do those with higher work place injuries.
MOD (Experience Modifier)
The MOD rate is a numeric representation of a business' claims history and safety record. Determined by rating bureaus, your MOD is used by insurers to gauge the cost of past injuries as well as the probability of future risk.
Adjustments
Your final premium may be adjusted by credits from the insurer (where permitted), premium discounts or carrier credits for implementing certain drug and alcohol prevention, managed care or workplace safety programs.*
Why does your business need workers' compensation insurance?
Just because your state may allow employers to go without workers' compensation insurance, you are still liable under the state's workers' compensation laws for injured workers. Not having workers' compensation insurance does not relieve you of the financial responsibility for injured workers. Plus, the penalties for not carrying required coverage can be stiff.

Remember, states do not provide this insurance – for the protection of your employees and your business, make sure you carry the required coverage today.
Visit us at www.insurance.adp.com to download a copy of our whitepaper,
Guide to Workers' Compensation Premiums.

Questions about workers' compensation coverage?
Call our Licensed Client Service Team today at (800) 524-7024.